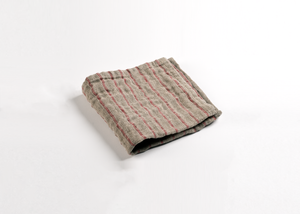 The ideal traveler's companion, this hard-working washcloth makes a bold statement in a small, lightweight package. Woven from two layers of medium-weight, 100% unbleached, undyed yarns, our striped dries quickly so you can get where you need to be.
Specifications:

   Material: 100% Linen
   Color: Natural/Red
   Fabric: Two-Ply Stripe
   Dimensions: 10" x 10" (25 x 25 cm)
   Weight: 0.8g (23g)
Washing Instructions: 
   Machine wash warm or cold, dry low or medium.